You have a website. It brings you traffic. You monetize it using Amazon associates, just like this one, and you begin to receive commissions to your Amazon account.
But then you start wondering, how will you actually use this money? How will you transfer these earnings to your local bank?
It is easy if you live in the US. But if you are abroad, it is not that simple. How to receive your money from Amazon US, and get it to your local bank or PayPal. This what I will answer in this article.
How does Amazon send money out?
Amazon pays money using one of three methods:
Amazon Gift Card
Check
Bank Transfer
A Gift Card is not actually a practical option as you may need to use this money for other needs other than spending them back on Amazon.
A check might be a good one, but it comes with large commission fees taken by Amazon for shipping and by the bank you are going to withdraw the money from. Besides, It may take up to 4 weeks to receive the check based on where you live.
Bank Transfer is the best option here, and this what Amazon itself recommends.
Which countries support direct bank transfer?
There are 52 countries if you live in you can easily set up your Payment Method as a bank transfer to your local bank. These countries are:
US, UK, Åland Islands, Austria, Azores, Belgium, Bulgaria, Canary Islands, Croatia, Cyprus, Czech Republic, Denmark, Estonia, Finland, France, French Guiana, Germany, Gibraltar, Greece, Guadeloupe, Guernsey, Hungary, Iceland, Ireland, Isle of Man, Italy, Jersey, Latvia, Liechtenstein, Lithuania, Luxembourg, Madeira, Malta, Martinique, Mayotte, Monaco, Netherlands, Norway, Poland, Portugal, Réunion, Romania, Saint Barthélemy, Saint Martin (French part), Saint Pierre and Miquelon, San Marino, Slovakia, Slovenia, Spain, Sweden and Switzerland.
What if you live in a different country?
If you live in a different place, you will need to open an online US bank account. An online bank account usually doesn't require you to physically exist in the US.
There are multiple online banks out there. I use TransferWise. (affiliate link) I found them to be neat, intuitive, and free to open an account with. They also have a nice mobile app that you can use to monitor your payments.
Once you open an account with them, which may take 2 days, you will be able to set your payment method, inside your Amazon associates account, to bank transfer as you would for a local US bank.
Here are the steps in detail:
How to open a US bank account on TranserWise?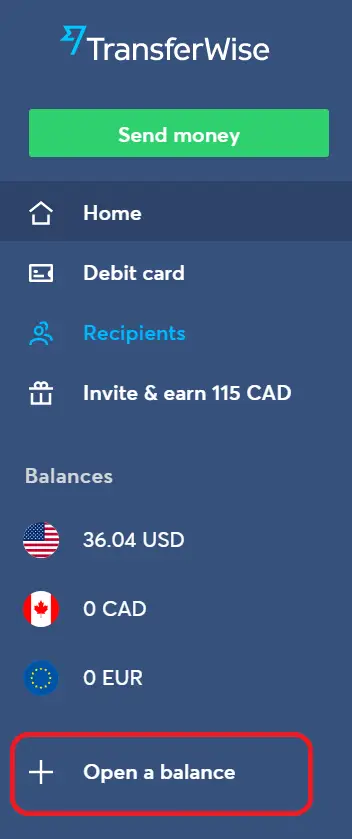 Go to TransferWise. Choose "business" if you have a registered business. Otherwise, a personal account would be ok.
They will ask you to hold a piece of ID and take a selfie. Then upload it to your account. It may take 2 days for them to approve your account. Most of the time it is much less than that. For me, it happened within an hour or so.
Once you are set up, Click on "Open a balance" on the left bar.
Choose the currency you need. In our case USD and confirm.
To open an account they will ask you to transfer a min amount of USD 20 to your account which you may use later. It is just a way for them to confirm that you are a real person and that you are serious about using your account.
How to link Amazon associates to TransferWise?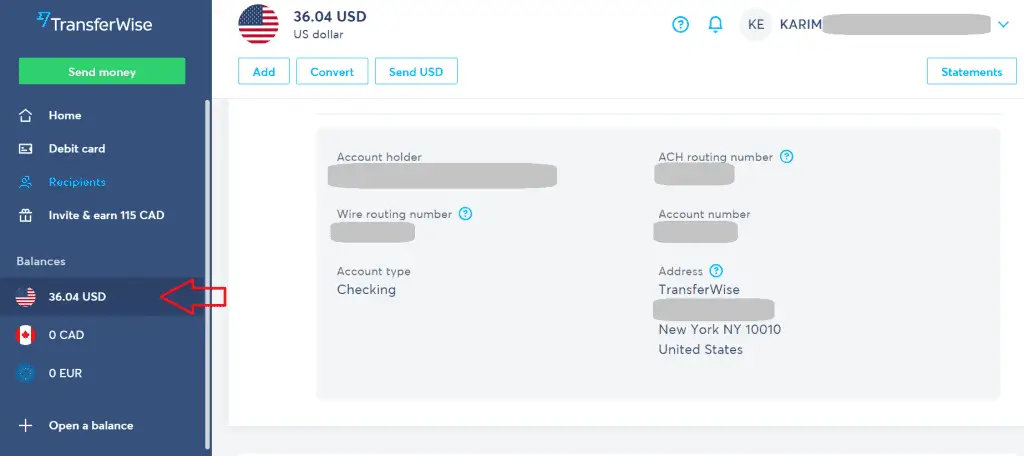 In order to receive your commissions from Amazon to Transferwise, you will need to provide Amazon with the following:
Account Type
Account number
ACH routing number (NOT Wire routing number)
You will find these details when you click on your USD account on the left bar and then details.
Now, go to your Amazon associate account to fill in these details.
Hover over your email up right –> Account settings –> Change Payment Method
Choose Bank Transfer and add these details.
Usually, Amazon transfers amounts once a month. When you receive them to your TransferWise account, you can then transfer them easily to your PayPal or any other local bank for a small fee.
I hope you found this useful. If you have any questions, feel free to reach out.