In this blog post, we will explore some of the best iMovie alternatives for Chromebook users and other online video editors that are available for free. All the applications we'll be discussing today will enable you to edit clips straight from your browser.
We'll cover both open-source and paid versions of these video editing tools along with their features and capabilities. From trimming and cropping videos to adding special effects and transitions – we'll teach you how to make professional-looking videos in no time.
You'll also discover how to edit videos directly from Google Drive or Google Photos using built-in editing tools. And if you're looking for something more creative than traditional video editing software, Adobe Spark offers unique templates for creating TikTok videos!
With simple user interfaces and intuitive controls, these online video editors are perfect for beginners who want to start creating content right away. Don't let the user-friendly interfaces fool you – these online video editors boast powerful capabilities that even experienced creators can appreciate.
So whether you're looking to create content for social media platforms or simply want to edit home movies on your computer, read on to discover the best iMovie alternatives and other online video editors available today!
What is iMovie?
iMovie is a powerful video editing software developed by Apple Inc. for macOS and iOS devices. iMovie allows users to craft amazing videos by combining photos, clips, music and other media elements. With its intuitive user interface, iMovie makes it easy for anyone to quickly assemble beautiful movies that can be shared online or on DVD.
The program offers a wide range of features including drag-and-drop timeline editing; advanced color correction tools; one-step effects such as picture in picture and split screen; audio filters; transitions between clips; titles with text animations and more. Furthermore, it is easy to incorporate vocal narrations or music into creations with a few simple clicks.
iMovie provides various export formats, such as MP4 (YouTube), MOV (Macs), MTS (HD camcorders) and WMV (PCs). You also have the option to share directly via iCloud Drive or iTunes library as well as burn DVDs directly from within the application itself (If you still use DVDs ofcourse!).
For those who want more control over their videos than what iMovie provides out of the box there are plenty of third party plugins available which extend its functionality even further – allowing you to do things like add motion graphics templates, green screen effects and much more.
If you are looking for an easy way to get started creating amazing movies without having any prior experience, then iMovie is definitely worth considering. 
Key Takeaway: iMovie is a powerful video editing software that offers an intuitive user interface and extensive features for creating stunning videos from photos, clips, music and other media sources. With the ability to export projects in multiple formats or share them directly via iCloud Drive or iTunes library as well as burn DVDs within the application itself, iMovie provides users with all they need to make professional-level movies without any prior experience.
Can iMovie be Used on Chromebooks?
Sadly, iMovie cannot be utilized on Chromebooks since they use Chrome OS. iMovie can only be used on macOS or iOS.
Chromebook users who want to edit videos have several alternatives available to them. For example, WeVideo is an online video editor with both free and paid versions that runs in a web browser without needing any additional downloads or installations. It has advanced editing tools like trimming videos, cropping videos, adding transitions between clips, creating titles and captions for your project, as well as many other features.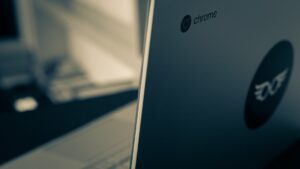 Chromebooks offer a range of video editing possibilities, such as Google Drive for cloud storage; Photos to arrange pics into albums; Docs for doc creation; Adobe Spark to create visuals and more – all without payment. These apps, available at no cost, enable users to quickly edit simple videos with a few clicks of the mouse directly in their device's web browser.
For those looking for something more powerful than what these basic tools offer there are open-source programs such as Kdenlive or OpenShot Video Editor that can be installed directly onto your device through the Chrome Web Store. These applications provide access to more advanced features like 3D animation effects, chroma keying (green screen), multiple audio tracks support, motion tracking capabilities etc., making them suitable even for professional level projects if needed.
Key Takeaway: Chromebook users don't have access to iMovie, but there are still plenty of options for editing videos – from free online editors like WeVideo to open-source programs such as Kdenlive or OpenShot Video Editor. 
What Alternatives are Available for Chromebooks?
For Chromebook users looking to edit videos, there are several alternatives available. WeVideo is a cloud-based video editor with a simple user interface and advanced editing tools. WeVideo provides a paid version that grants access to more features, such as 4K resolution support and unlimited storage space. Kinemaster is another popular option for Chromebooks that includes trimming, cropping, and other basic editing functions. Adobe Premiere Rush is also an excellent choice for those who want more professional-level capabilities such as multi-track audio recording and motion graphics templates.
Google Photos is another great way to quickly create videos on your Chromebook by combining photos or short clips into slideshows with music tracks included in the background. If you're looking for something even simpler than that, then Adobe Spark might be worth checking out; it allows users to easily combine text, images, and video clips into engaging stories without any prior knowledge of video editing software required.
With the right research and understanding, users can discover a suitable option for their requirements. Now let's explore how you can get started with video editing on a Chromebook so you can create stunning videos in no time.
How Can I Get Started With Video Editing on a Chromebook?
If you're a beginner wanting to explore the world of video editing on a Chromebook, this is the perfect place to start. Editing video can be daunting for beginners, but don't fret – with a few straightforward steps and some handy advice, you'll soon have videos that look like they were made by pros.
First things first:
Downloading an app. To begin, you may want to explore the various video editing apps available in the Google Play Store or Chrome Web Store for your Chromebook. Some of these include WeVideo, KineMaster Pro Video Editor, Adobe Premiere Rush CC and more. Do some research to find the best fit for you; all of them have varying capabilities. Once you have the app on your device, take a look at its features and start having fun.
When beginning video editing on a Chromebook, it's essential to stay organized with folders and labels while also embracing creativity. It's important to stay organized when working with multiple clips as it will save time during post-production edits down the line; create folders within each project folder labeled by date or type of clip (interview footage vs b-roll). As far as creativity goes – let loose. Experimenting with effects like transitions between clips or adding text overlays can take any basic clip into something extraordinary if done correctly.
Lastly, remember that practice makes perfect when it comes to mastering any skill – especially video editing. With enough patience and dedication anyone can become proficient at creating high quality videos using just their Chromebooks; so don't give up after making a few mistakes along the way – just learn from them instead.
Key Takeaway: Video editing on a Chromebook is surprisingly easy and enjoyable with the right tools. Download an app from Google Play Store or Chrome Web Store, get creative, stay organized – practice makes perfect. Persevere despite any missteps; take them as learning opportunities.
FAQs in Relation to Imovie for Chromebook
Can iMovie be used on Chromebook?
No, iMovie cannot be used on a Chromebook. No way exists to install iMovie on a Chromebook, as the app is not compatible with Chrome OS. It can only be installed on Apple devices such as Macs, iPhones, iPads and iPod Touches running iOS or macOS operating systems. Since Chrome OS is exclusive to Chromebooks, the application cannot be installed on any other device.
What are good things about iMovie?
IMovie is an easy-to-use video editing software developed by Apple. Its user-friendly design and range of editing tools enable users to quickly craft high quality videos. Its library of sound effects, transitions, titles and templates make it possible for even novice editors to produce professional looking results in no time. Additionally, iMovie offers compatibility with 4K resolution footage as well as support for 360 degree VR content which makes it great for creating immersive experiences. iMovie is a great option for those who want to enhance their video projects without needing to invest too much money or effort into mastering complex software.
Does Google have a program like iMovie?
No, Google does not have a program like iMovie. However, they do offer video editing tools such as YouTube Studio and the Video Editor in Photos. YouTube Studio is a robust app that provides users with the capacity to trim and join clips, add audio or text overlays, adjust brightness/contrast levels, apply filters, etc. The Video Editor in Photos provides basic features such as cropping clips, adding music or text overlays along with adjusting saturation levels of your videos. Both of these tools are available for free and can be used to create great videos.
What is the best video editor for Chromebook?
The best video editor for Chromebook is PowerDirector. PowerDirector provides a range of sophisticated editing tools, such as motion tracking and audio mixing, for creating professional-looking videos quickly. The user interface is intuitive and straightforward, making it simple to create polished videos in no time. Additionally, the app supports 4K resolution exports with no watermarking or other restrictions. Finally, the free version offers more than enough features for most users' needs while still being affordable if you need additional functionality.
Conclusion
iMovie is an excellent software for video editing but unfortunately it cannot be used on a Chromebook. However, there are some great alternatives available such as Kinemaster and Adobe Premiere Rush that can help you create amazing videos with your Chromebook. Utilizing the proper equipment and information, making impressive videos on a Chromebook is not only feasible but also uncomplicated. So if you're looking to get started with imovie for chromebooks then give these options a try today.
Last update on 2023-11-22 / As an Amazon Associate, we earn from qualifying purchases. Learn more about us.