Amazon Fire TV Stick 4K is the latest version of Amazon's popular streaming devices. One of the main differences between the Amazon Fire TV Stick 4K and the previous versions of Amazon's streaming devices is that the latest device supports 4K viewing.
Despite being relatively similar to the second-gen Fire TV Stick in so many ways, there are major advantages that come with 4K viewing.
One of the reasons why the Amazon Fire TV Stick 4k has become popular is because it comes with Amazon's Alexa built-in voice assistant.
There is also a wide range of content and apps to choose from such as Amazon Prime Video and Netflix.
If you are in the market for the latest Amazon Fire TV Stick 4K, there are a number of things you should know ranging from compatibility with your TV to the main features of the device. 
Is The Fire Stick 4k Compatible With All TVs?
Yes. The Fire Stick 4K has navigated the compatibility issue and is compatible with all TVs. However, you need to have HDMI ports on your TV for installation. Without the HDMI ports, it is practically impossible to use the device. 
Despite being compatible with all TVs, the resolution that you will get from the device depends on the capability of your TV.
In most cases, the TV provides a list of supported resolutions allowing you to choose the best resolution as supported by the device. 
Since its launch, the Fire TV Stick 4K played videos much faster than its predecessors since you could scroll through the TV guide without the usual stutter or lag.
While scrolling through your home screen, you often find that the drop in frame rate is much less with the Fire TV Stick 4K compared to other streaming devices. 
Does Amazon Fire TV Stick 4K Work on Non-Smart TVs?
Yes. One of the main objectives of a Fire TV stick is to turn a regular TV into a smart TV. This allows you to stream videos, use voice search, and even enjoy your favorite games online. Since not everyone can afford a smart TV, you don't need one with the Amazon Fire TV Stick 4K. (For Features snipped)
However, there are some basic requirements for non-smart TVs to use the Fire TV Stick 4K. The TV should either have HD or UHD display as well as HDMI ports.
Although there is a workaround for non-smart TVs that do not have HDMI ports to use TV sticks, it is much easier if you have a non-smart TV that has these ports. 
The downside of using the Fire TV Stick 4K on non-smart TVs is that smart TVs have a sharper image compared to the latter.
It is recommended that if you decide to invest in the latest Fire TV Stick 4K  device, then you should also consider investing in a smart TV for sharper image quality. 
Last update on 2023-11-21 / As an Amazon Associate, we earn from qualifying purchases. Learn more about us.
What can you do With Fire TV Stick 4K on a Smart TV?
The Fire TV Stick 4K is an improvement of the previous streaming devices from Amazon although even after the release of Fire TV Stick 4K, Amazon has unveiled the Fire TV Edition and the Amazon Fire TV Cube.
One of the best features of the Fire TV Stick 4K is Amazon's in-built Alexa voice assistant.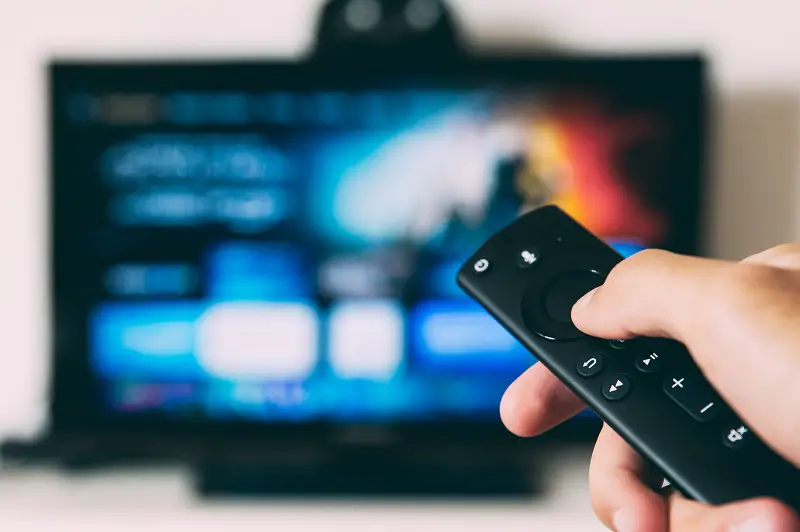 Today, you can even hook your Amazon Echo speakers to the Fire TV Stick 4K-totally wireless.
Setting up the Fire TV Stick 4K is quite easy due to the simple user interface and the responsiveness of the remote control. 
On your smart TV, you need to plug in the Fire TV Stick 4K to the HDMI ports and the mains.
Once the Fire TV Stick has been plugged in, a remote prompt will appear and walk you through the entire process. This means that you don't have to worry about going through the manuals. 
Even for people who have never used a Fire TV Stick before navigating the user interface of the Fire TV Stick 4K is quite easy.
Your TV will display all the recently accessed apps and shows on the home screen or you can alternatively scroll through different apps and content as well. 
Do you have to pay a monthly fee for Amazon Fire TV?
There are no monthly fees that are associated with Amazon's streaming devices. What is required of you is simply to buy the device and you are good to go. However, there are exceptions when you add subscription services such as Netflix or channels such as HBO. This is where things can get expensive. 
In addition, users with Amazon Prime subscriptions get to enjoy a host of benefits-but this is a separate expense.
Ideally, the Fire TV ecosystem allows you to enjoy premium streaming services but at the same time, you will still have to pay for other related subscriptions and costs associated with other service providers and content that you want to access. 
The Fire TV Stick 4K still gives you top-tier streaming services at a budget package of just $49.99 and comes with all the standard features of a TV Stick but with additional features.
The 4K version has Dolby Vision and HDR10+ that gives you some of the richest and darkest colors on your TV. This device also has one of the most satisfying sound experiences any user can have.
When you add the voice-activated Alexa and the remote control that can connect to your TV, you are guaranteed an amazing 4K experience from Amazon's Fire TV Stick 4K.
Do you need to Have Amazon Prime or Echo Device to use the Fire TV Stick 4K?
Essentially, no. Fire TV Stick 4K is for everyone but it is highly optimized for Amazon Prime subscribers.
If you want premium streaming services, then you would have to have an Amazon Prime account. For its predecessor, however, it is possible to use the Fire Stick as long as you have Wi-Fi connectivity.
With a Wi-Fi connection, it is possible to browse the internet and related video streaming apps from the previous Fire Stick devices. 
You can also use Fire TV Stick 4K without an Echo device. You can use an echo device though to control the Alexa.
This means that you can control your viewing or even the security feeds by just issuing voice commands.
For smart TVs, you can power your TV simply by issuing a voice command as long as the TV supports HDMI-CEC.
Amazon's Fire TV Stick 4K has more nuanced controls such as the ability to navigate your TV home screen, enhanced video playback menu, and Fire TV menus. All these improve the experience that the user has with the Fire TV Stick 4K.
Read Wireless Earbuds For Fire Tablet.
How do you Pair Fire TV Stick 4K with Alexa Echo?
Pairing your Fire TV is quite seamless especially if you only have one registered to your Amazon account. Alexa completes the entire linking process for you automatically and all you need to do is just make a request that should include your Fire TV to the inbuilt Alexa device in Fire TV Stick 4K. 
For instance, you can issue a directive "Alexa, show me a comedy drama on Fire TV" and the device will automatically pair with your Fire TV Stick 4K. When dealing with multiple Fire TVs, then you are required to use the Alexa app for pairing. 
It is possible to link multiple Alexa devices to the same Fire TV but you can only use one device to control the Fire TV.
You also need to have the same Amazon account to link your Alexa device to the Fire TV. The good thing about the Fire TV Stick 4K is that its Alexa is inbuilt and therefore you do not have to worry about this requirement. 
When it comes to the hardware, Fire TV Stick 4K has quad-core 1.7GHz CPU as well as 8GB memory.
It also features MIMO 802.11a/b/g/n/ac Wi-Fi and Bluetooth. This is a great improvement compared to its predecessors. 
Final Thoughts
Amazon's Fire TV Stick 4K is an amazing device especially after the inclusion of 4K support.
You are able to navigate easily through different apps, movies, and shows with the possibility of accessing the most recent content on your home screen.
The interface is super-responsive and loads easily meaning that you will have a superior user experience with the Fire TV Stick 4K. The Fire TV Stick 4K is also a great traveling companion due to its portability.
If you are traveling abroad, you might want to unlock the VPN in order to access your content. This means that a device is a brilliant option for all your streaming needs compared to other streaming devices available in the market.